Stellar Conquest Full Thrust Campaign
I decided to run a campaign to help foster interest in Full Thrust. I happen to own an excellent Avalon Hill science fiction boardgame called Stellar Conquest and, after re-reading the rules, came to the conclusion that the mechanics in Stellar Conquest would work very well as the strategic level for a campaign.
The other good thing about using Stellar Conquest is that it comes with a map of local-ish space. This saved me a lot of effort in attempting to translate a map of real-space into something one could plot moves on. There is a larger version of the campaign map than the one below, here. I should point out that there are some very nice star maps available on the web - Nyrath the Nearly-wise has done some beautiful work for the Full Thrust Universe, and Atlas of the Universe is just that!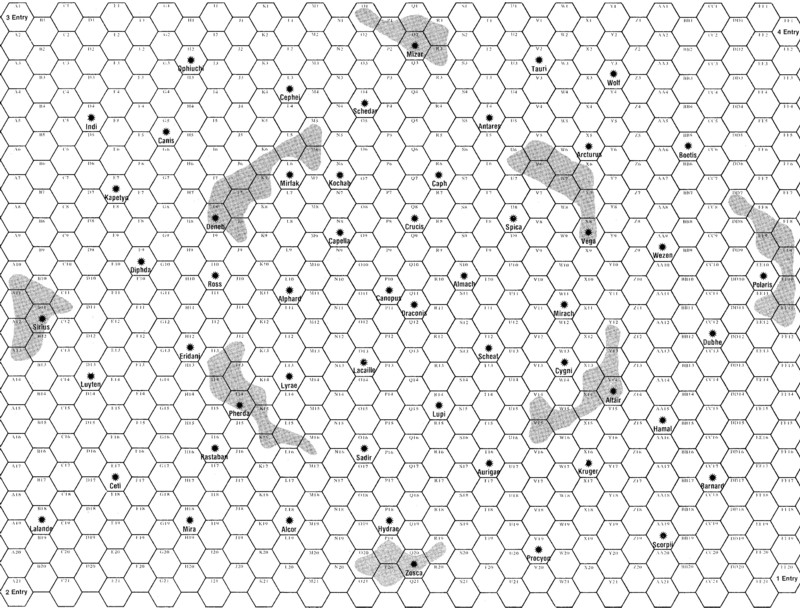 I edited the Stellar Conquest rules a little, both to bring them more into line with the Full Thrust table-top rules, and to exclude some material that I didn't feel was relevant to the game I wanted to run. I also took the opportunity to incorporate some material on "Officer Command Qualities", first proposed by Sean Bayan Schoonmaker on the GZG-L discussion list, and some material from 'Full Thrust Campaign Rules: Fleet Book Edition' by Roger Burton West and Peter Edge.
Currently, the campaign rules are on-line at Chris's website, along with some musings by Chris on the merits of various campaign set-ups. I may eventually put the rules up here (or swipe Chris's code so I don't have to type everything out again!), but until then, here's some Full Thrust Stellar Conquest related material.
| Setting up and Managing the Campaign | Battles of the Campaign | Campaign History |
| --- | --- | --- |
| Managing the large amount of data for a campaign is a challenge. I get it right most of the time but record keeping is the key. Some thoughts and tips | These are set-up scenarios for the battles we've fought. They include lists of ships, NPV and tonnage values. There is also a brief account of the 'historical' result. | Due to the ongoing nature of the campaign, this history currently only covers the first twelve turns. It will expand as we move further down the turn track. |
---