The Gazul Subsector
---
| Hex No. | Planet | UPP | Bases | PBG | Trade | Alg. |
| --- | --- | --- | --- | --- | --- | --- |
| 0101 | Palinurus | C-100787-8 | S | 634 | NA/Va | Im |
| 0104 | Dariak | C-555357-8 | S | 825 | Ni/Lo | NA |
| 0107 | Atonia | C-333558-7 | S | 400 | Ni/Po/NA | Im |
| 0108 | Kralkor II | D-886874-3 | S | 322 | Ri | NA |
| 0110 | Ftaioiaftew | B-130646-B | HWN | 523 | Ni/Po/De/NA | HW |
| 0201 | Pheidos | C-778565-7 | Nil | 831 | Ag/Ni | Im |
| 0203 | Sabazius | C-558300-A | Nil | 213 | Ni/Lo | Im |
| 0204 | Hasku | C-454400-6 | Nil | 102 | Ni | Im |
| 0205 | Anubis | C-350320-A | Nil | 323 | Ni/Po/De/Lo | Im |
| 0301 | Kartivia | B-566597-C | S | 800 | Ni | Im |
| 0302 | Mardru | C-6B0530-A | Nil | 223 | Ni/De | Im |
| 0303 | Dokar | A-67A79A-B | N | 305 | Wa | Im |
| 0304 | Axal | B-789447-B | S | 325 | Ni | Im |
| 0305 | Veda | C-657523-7 | Nil | 833 | Ni/Ag | Im |
| 0310 | Gorth | E-436514-7 | Nil | 524 | Ni | NA |
| 0402 | Falthar | B-11078A-B | S | 900 | NA | Im |
| 0408 | Ikhyowou | A-597400-B | HAN | 214 | Ni | HA |
| 0504 | Daxam | A-898962-9 | Nil | 803 | In/Hi | Im |
| 0608 | Arnak | B-10099A-8 | S | 422 | NA/Hi/Va | NA |
| 0702 | Gazul | A-375675-D | N/S | 522 | Ag/NI | Im |
| 0703 | Xudar | A-223477-D | S | 711 | Po/NI | Im |
| 0704 | Yored | E-44258A-8 | Nil | 610 | Po/Ni | Im |
| 0707 | Kothgar | B-423866-C | S | 114 | Po/NA | Im |
| 0710 | Dathyna | D-573ACC-A | Nil | 522 | In/Hi | DC |
| 0805 | Kasimir | B-667837-9 | Nil | 101 | - | Im |
| 0809 | Emanon | E-224662-4 | Nil | 101 | Ni | DC |
---

Alliance Codes: DC = Dathynan Concordance; GR = Geithurian Republic; HA = Huiha Ahtaokye; HE = Huiha Esoyatre; HK = Huiha Khysokhou; HL = Hegemony of Lotarf; HR = Hunt of Rronurl; HW = Huiha Weakhayuwikhye; Im = Imperium; Ka = Kamperel Republic; KN = Khedivate of Nutharal; KW = Kalar-Wi; NA = Non-Aligned; SA = Hand of Ssra'ka Aissr; VN = Voivodate of Naos

Base Codes: GN = Geithurian Republic Naval Base; GS = Geithurian Republic Scout Base; HAN = Huiha Ahtaokye Naval Base; HEN = Huiha Esoyatre Naval Base; HES - Huiha Esoyatre Scout Base; HKN = Huiha Khysokhou Naval Base; HLN = Hegemony of Lotarf Naval Base; HWN = Huiha Weakhayuwikhye Naval Base; N = Imperial Naval Base; S = Imperial Scout Base; N/S = Imperial Naval and Scout Base; KN = Kamperelian Naval Base; KS = Kamperelian Scout Base; KWN = Kalar-Wi Naval Base; Nil = No Significant Base; NN = Nutharal Naval Base; NS = Nutharal Scout Base; RN = Hunt of Rronurl Naval Base; RS = Hunt of Rronurl Scout Base; SAN = Ssra'ka Aissr Naval Base; T = Tallu Naval Base; VNN = Voivodate of Naos Naval Base; VNS = Voivadate of Naos Scout Base; ZNS = Zoni Naval and Scout Base, Lur; YN = Yuar Naval Base

Trade Classifications: Ag = Agricultural; As = Asteroid Belt; Ba = Barren World; De = Desert World; Fl = Fluid Oceans; Ic = Ice Capped; In = Industrial; Hi = Hi Population; Lo = Low Population; NA = Non-Agricultural; Ni = Non-industrial; Po = Poor; Ri = Rich; Va = Vaccuum; Wa = Water World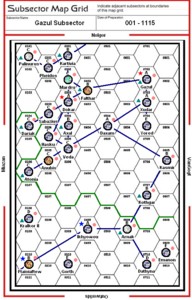 The Gazul subsector contains twenty-six worlds with a total population of 68.9389 billion sophonts. The highest population, A, is at Dathyna, and the highest Tech Level, D, is at Axal, Gazul and Xudar.
While eighteen of the twenty-six worlds of the Gazul subsector are members of the Imperium, most of these worlds are only sparsely settled and only 12.5% of the subsector's population are Imperial citizens.
Sector Duke Kolin II began the process of Imperial expansion into Gazul subsector in the mid 6th Century. The badly organised Rimward Coalition, consisting of a number of small polities, actively resisted this expansionistic drive through a series of three Rimward Wars.
The 3rd Rimward War was concluded in 882 and an uneasy peace has ensued along the Demilitarized Zone running through Kralkor II, Ikhyowou, Arnak and Emmanon.
---